A four-sided glass display cooler is a refrigeration unit that is commonly used in grocery stores, convenience stores, and other retail environments to showcase and refrigerate various food and beverage products. As the name suggests, this type of cooler has glass panels on all four sides, allowing customers to easily see the products inside from any angle.
Four-sided glass display coolers come in different sizes, ranging from small countertop models to large walk-in units. They are typically designed with adjustable shelving to accommodate different product sizes and shapes. The shelves can be made of various materials, including wire, plastic, or glass.
Some of the key features of a four-sided glass display cooler include:
Temperature control: The cooler is equipped with a temperature control system that allows the user to adjust the temperature to suit the specific needs of the products being displayed.
Lighting: The cooler is often equipped with LED lighting that illuminates the products inside and helps to attract customers' attention.
Door options: Some models may have sliding glass doors or hinged doors, which can help to conserve energy and maintain the desired temperature.
Energy efficiency: Many modern four-sided glass display coolers are designed to be energy efficient, with features such as high-efficiency compressors and LED lighting.
A four-sided glass display cooler is a versatile and effective tool for showcasing refrigerated products in a retail environment. It allows customers to easily see and access the products, while also keeping them at the optimal temperature for freshness and safety.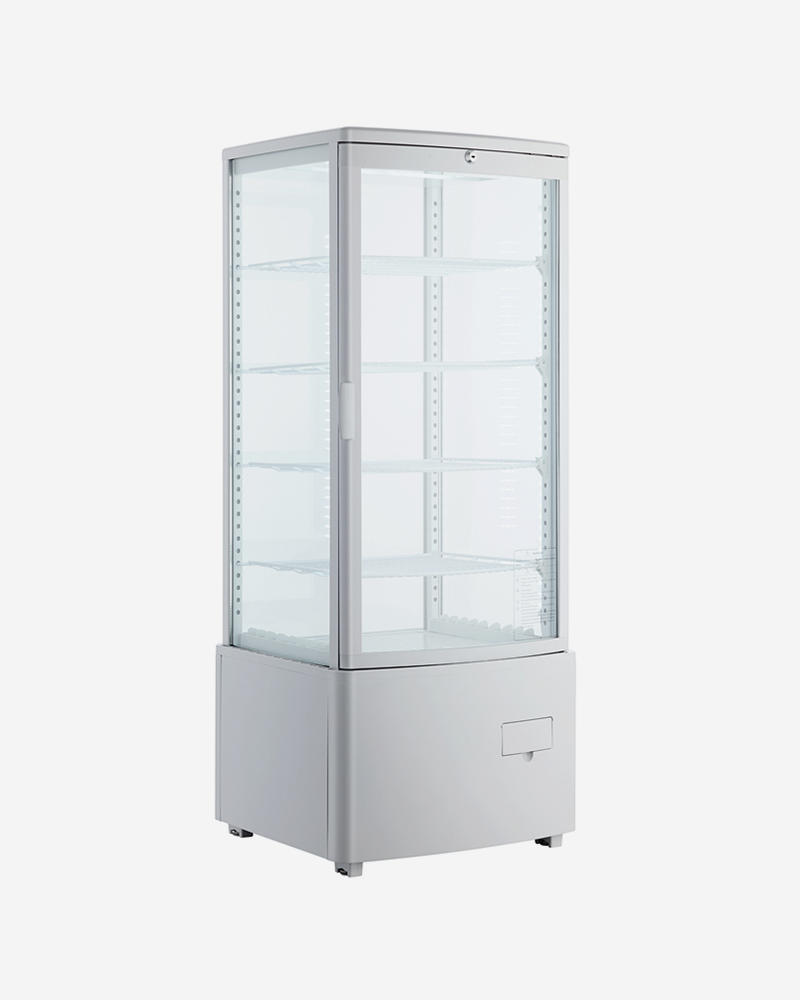 Model:XC-98L(1R)
Capacity(L):98
Temp range (°C):2-10
Input power (W):210
Refrigerant:R1 34a/R600a
Climate type:4
Net weight (kg):38.5
Gross weight (kg):41
Product size (mm):447*425* 1121
Package sie (mm):502*468*1160
20" GP:110
40" GP:230
40" HP:230